After more than a month's worth of sweet, holiday baking, I'm ready to bake something savory, something comforting and perhaps even therapeutic to make. I bet you might be as well. So… the first #baketogether of 2012 is …. BREAD!
I know there are some folks that claim they are "yeast challenged", but I really believe that this bread will change how you look at those packets of yeast. Who knows, this recipe might even be life altering. It's that easy to make and that good to eat.   This soft, slightly sticky dough is easy to handle and it bakes up into a heavenly, aromatic, buttery, soft crusted round with a porous, chewy texture. Sliced into thick pieces, it's delicious slathered with butter or jam, makes amazing toast and hearty sandwiches or is the perfect partner to  a warm winter stew. You will want to eat this bread everyday. Really.
Let's start with a quick rundown about this recipe and what you'll need to have on hand to be successful:
•    A version of this recipe originally appeared in my book The Weekend Baker and is inspired by a bread I used to make when I ran the bakery at Hay Day Country Market (now Balducci's) in Greenwich, Connecticut. The "peasant bread" was so popular that it regularly sold out faster than we could bake it – THAT good. What makes this recipe different from other yeast-risen breads is that I've teamed a bit of baking powder with the yeast to give the bread it's chewy, airy quality.
•    This recipe calls for "instant" yeast not cake or regular granulated yeast. You can substitute these other types of yeast BUT make sure you adjust the water temperature and method accordingly as all yeasts do not play the same.
•    Use an accurate instant read thermometer. Take a reading of boiling water. Your thermometer should register 212°F. If not, adjust the temperature goal accordingly. All yeasts are very temperature sensitive and need the proper warmth to activate.
•    For the roundest shape, use an 8-inch round cake pan.
•    No stand mixer? Give me a hollah and we'll go through the hand-mix method.
OK..  how about a few suggestions for making this recipe your own:
•    Change the shape! Make it rolls. Make it a traditional loaf.  Make it square.
•    Change the flavor! Cheese? Herbs? Black pepper?
Here at #baketogether, we love all shapes and flavors equally so put on your thinking caps.
A few How-To snaps that might help you:
After its first rise, shape the dough into a nice round and center it in a buttered 8-inch cake pan.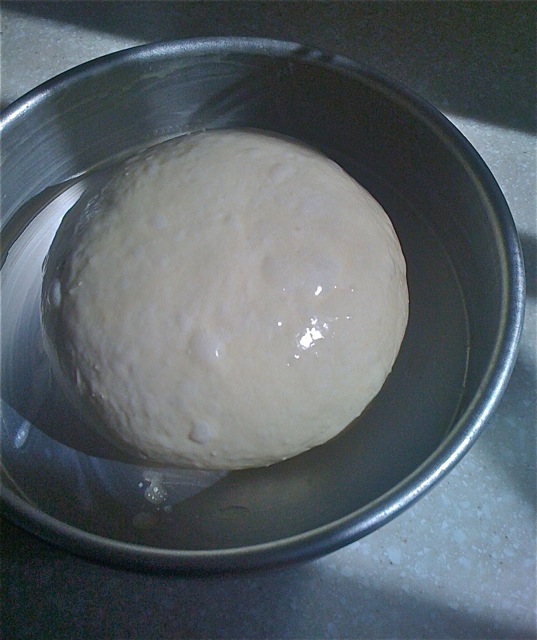 After rising, the dough will fill the pan: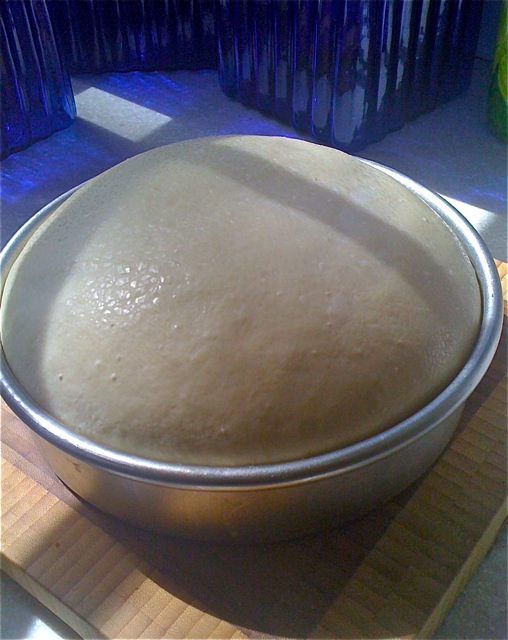 And  will be  about 2″ above the rim in the center: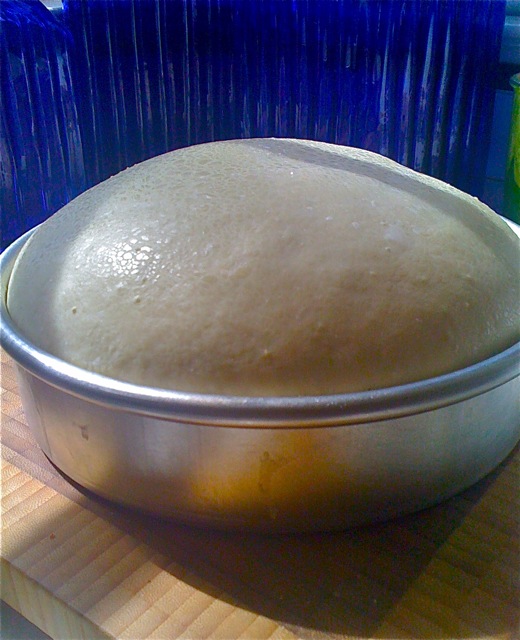 You all know the #baketogther drill, right? Use my recipe as a starting point and spin, twist and change it in any and every way you want. Take some snaps, write a post including info about #baketogether & links to this recipe and let us all know what you've created using all our fave social media (twitter, FB, instagram.. what have you). Once you've posted your version, leave your link below the recipe in this post so that we can all see and make your fab variations as soon as you've posted!
So, for now, I wish you all a very health and happy New Year and I'm looking forward to us all baking together in 2012.
Abby
Peasant Boule
Makes 1 round loaf; 8-10 servings.
3 1/3 cups (15 ounces) all purpose flour
1 packet (1/4 ounce) instant yeast (Rapid Rise)
2 tablespoons granulated sugar
1 1/2 teaspoons table salt
1 1/2 teaspoons baking powder
1 1/3 cups very warm water (between 115 and 125 degrees)
3 tablespoons unsalted butter, melted
1. In a large bowl of electric stand mixer, whisk the flour, yeast, sugar, salt and baking powder. Clip the bowl into the mixer stand and fit the mixer with the dough hook.
2. Check that the water temperature registers about 120 degrees on an instant-read thermometer. (In order for this type of yeast to grow, the liquid needs to be between 115 and 125 degrees.)
3. With mixer on medium-low speed, slowly pour the water into the flour and mix until the flour is completely incorporated.  Increase the speed to medium and beat until the dough is smooth and pulls away from the bottom and sides of the bowl, about 6 minutes. Don't venture too far away while it's mixing as the mixer might dance around on the counter.
4. Scoop up the dough and shape it into a ball. Lightly grease (using some of the melted butter or spray release) the bottom and sides of the mixing bowl and pop the dough, rounded side up, back into the bowl. Cover the top securely with plastic wrap. (I like to use a large rubber band to hold the plastic in place.) Let the covered dough rise in a warm spot until doubled in size, about 45 minutes.
5. Using some of the melted butter, generously butter an 8-inch round cake pan. Turn the dough out onto a clean work surface (there's no need to flour—the dough is soft but not sticky) and press to deflate it. Shape the dough into a 7-inch-wide round and place it, smooth side up, in the center of the prepared pan. Generously brush the top and sides with some of the melted butter. You may not need all the butter.
6. Let the dough rise (no need to cover it) in a warm spot until doubled in size, about 25 minutes. It will fill the pan.
7. About 15 minutes before the dough is ready to bake, position a rack in the middle of the oven and the oven to 375°F. When the dough has risen to about 2 inches above the edge of the pan, bake until the boule is well browned and sounds hollow when tapped about 40 minutes. Transfer the pan to a rack and tip the baked bread onto a rack and remove the pan. Set it right side up and let cool completely.
Via drbabs: made w 1/3 cup white WW flour, 1 oz wheat germ, cinnamon, raisins & walnuts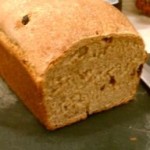 Via RockiePie258