We've had a few brutal heat waves this summer and, during the last one, I made a bold decision that will affect you all. I decided that August's #baketogether would be no bake. Yes. That's what I said. A no-bake #baketogether.  But just because we aren't turning on our ovens doesn't mean we won't be creating, together,  a wonderful, refreshing dessert with our own twists. It would just be too sad to skip a month. Oh, and did I mention how easy this one is to whip up and make ahead? It is.
We often chat about how inspiration for a recipe can come from anywhere and anything. Well, this little dessert's origin is no different and, honestly, it is all about the sauce. Last week I had lunch with my pal, Gail. You know Gail, right? She who is a cookie and cake genius – her motto is "Cookies are a piece of cake." Brilliant.  Her business  &  hilariously clever blog is One Tough Cookie INC and if you aren't following her on  Twitter, do it right now. She's @THEToughCookie. Anyway… we met up at Barbuto (lovely spot for lunch or dinner, btw) and immediately ordered a drink (Gail was practically on vacation and, being a good friend and all, I just couldn't let her drink alone.). Gail's tall, ruby-red drink, a "Brezza Fresca", arrived and it had me at hello. Ice -cold, bursting with big berry flavor with a touch of lime, splash of sparkling water and, well, gin, this was one of the most beautiful and delicious drinks I've tasted in a long while. It was so good that I immediately thought that it should be on the dessert menu….. and now it is.. on our baketogether dessert menu alongside a vanilla-scented, smooth, rich ricotta panna cotta.
These two recipes are teed-up nicely for you creative, talented folks to play around with and show off your dessert-making mojo. But, before you rip open your gelatin packets, let's do a quick review of the recipes along with a few suggestions for switching them up.
Ricotta Panna Cotta:
I used store-bought, whole milk ricotta for this batch but, knowing you guys, I'm sure more than one of you will be making your own ricotta. Perhaps someone wants to try a low-fat version. Do it.
Using a blender or food processor smooths out the ricotta texture but don't feel like you must use it. Same goes for the ricotta – use it or not. Do your own thing.
I used granulated sugar but this baby can be sweetened with all sorts of loveliness. Can you say "Maple" or "Honey"? Yes you can.
I flavored this version with vanilla bean paste (courtesy of Heilala who kindly sent me a little of their heavenly vanilla to test drive). I love the visual of those millions of tiny seeds suspended in this thick, creamy-white custard. That said, I just know you all are going to wave your flavor wand over this mixture and come up with some awesome combos. How about steeping the dairy with corn kernels? Anyone?
I used glasses — martini as well as mini parfait — as my vessels of choice but using something that can be unmolded is more traditional. For the asymmetrical look, arrange your empty glasses in the frig and rest them up against something (I used a loaf of bread) so that they are on a slight angle making sure they are positioned so you can still fill them. FYI: the mixture makes a smidgen over 2 cups so pls plan accordingly. Also, depending on what dairy you use and if you are unmolding, you may need to add a bit more gelatin. Whatever style you decide to make we will love. Promise.
And a few thoughts on the 'sauce':
yes.. it is boozy but, no… it doesn't have to be. I use gin but you can use whatevah you like. You say "tomato"… I say "tomato"..
No, it doesn't have to be raspberry but make sure you capitalize on one of summer's shining stars. Did I hear someone say cherries? I hope so.
Mix up the flavoring pairings and consider ginger and lemongrass, herbs, hot peppers, spices, or pink peppercorns.
The recipe makes about 1 cup (not including the slash of sparkling H2O) but feel free to double or triple up on the goodness and freeze some. I did.
Maybe you want to go rogue this month and just do something with the sauce. It would make a killer-good sorbet or, heck, how about a cocktail? Go for it you rebel you!
If you are new to #baketogether – Welcome! Read this short bit about how we roll:  "rules". And please upload the BakeTogether badge to your site – it's up there on the right side of the site.
And, finally, as I like to say.. It's all about balance.. it's all about flavor and it's all right here in this month's NO-BAKE #baketogether. So, go ahead and stretch your limits,  find your balance and share your brilliance.
Happy baketogether!
A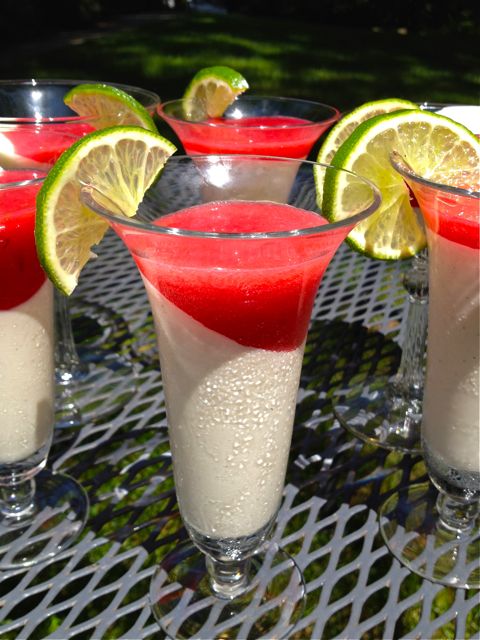 Ricotta Panna Cotta with Raspberry"Brezza Fresca"
Makes 6 servings
For the Panna Cotta
1/4 cup water
1  teaspoon unflavored gelatin powder
1 1/2 cups (13 1/8 ounces) ricotta cheese
1/2 cup ( 3 1/2 ounces) granulated sugar
1 teaspoon pure vanilla bean paste
Pinch table salt
For the Raspberry Sauce
1/2 pint raspberries, rinsed and dried
1/3 cup (1 3/8 ounces) confectioners' sugar + more to taste
2 tablespoons gin + more to taste (I use 3T's but that might be a bit more than you like)
1 tablespoon fresh lime juice
Pinch table salt
1 teaspoon finely grated lime zest
Pellegrino or other sparkling water
To make the panna cotta:
1. Have ready 6 small dessert glasses or bowls and make room in the frig.
2. Put the water in a 1 cup Pyrex measure or a small, heatproof ramekin and sprinkle the gelatin over the top. Set aside to soften. Once the gelatin has absorbed the water and is plump, microwave briefly until it is completely melted, about 1 minute.
3. Put the melted gelatin, ricotta, sugar, vanilla bean paste and salt in a blender or food processor and pulse until smooth and well blended. Pour into the prepared glasses or bowls, dividing the mixture evenly and leaving enough space at the tops for the sauce. Cover the tops with plastic. Refrigerate until set, about 4 hours or up to 2 days before serving.
To make the raspberry sauce:
1. Put the raspberries, confectioners' sugar, gin, lime juice and salt in a blender or food processor and pulse until smooth and well blended. Taste and add more confectioners' sugar or gin accordingly. Strain the mixture through  a fine mesh sieve over a small bowl or 2-cup measure, pressing firmly on the seeds. Discard the seeds. Stir in the lime zest and cover and refrigerate until ready to serve or up to 3 days.
To serve:
Add a splash or two of Pellegrino to the raspberry mixture and stir until blended. Pour a little sauce over the panna cotta and serve the rest on the side.