Coming off the party-high from last month's Mini Treats & Handheld Sweets Baketogether Party, I thought we could all use a small, elegant recipe that can truly swing #TeamSweet or #TeamSavory.  This recipe highlights a few classic techniques that we should all dust-off or learn a bit more about. This skillet souffle is a lovely, non-intimidating vehicle to exercise your whites-whipping & folding skills. You can do it!
– Disclaimer Alert: I extend apologizes to Team Savory as I had full intentions of making this recipe a savory one. But..  the season prevailed and the pears sitting on my counter were deliciously fragrant and the perfect firm-ripeness needed to make this skillet souffle into dessert. That said, this baby is just asking to be some lucky baker's dinner or lunch. See below for suggestions and then take it away Team Savory. I want to hear from and… you know thatI know who you are!
Oh and about the Party Gifts from last month… I liked that whole give-away thing so keep your eyes peeled for more books and good stuff in upcoming months..
Here are a few ideas for switching things up but feel free to streeeetch your limits. We are, after all, baking together so show us what you've got.
Add different flavors : I've used pears & Poire William (pear liqueur) but you can use pretty much any combo of fruit & booze. You can also add in herbs, spices, citrus (don't forget ginger, my fave)..heck.. you can make the souffle chocolate and use lightly salted mixed nuts instead of fruit. Bring it.
Savory works too! Hey, Team Savory.. I'm talking to you. This little skillet souffle dessert morphs easily into a savory lunch served alongside lightly dressed greens. Maytag Blue & toasted walnuts? Breadcrumbs instead of fruit? Goat cheese, red peppers & herbs? Heck, yes!
Change the shape:  I've made this in a small, 8-inch skillet to make it a more manageable size for smaller households as well as making it a bit easier for beginner-souffle-ers. That said, you can make this bigger – use a larger non-sticker &  2x or 3x the batter – or go the more traditional route and make 'em indies — butter and coat those rammies with sugar (or breadcrumbs if you are team savory). We like 'em all.
Add a drizzle or a sauce: Caramel? Chocolate? Vanilla bean? Boozy Anglaise? To this, I'll simply say "yes, please"!
Before you dive in, how about a few tips and pix for success?
I've cut the pear into 1/2-inch slices (see here for slicing tips) and sauteed them in butter in a non-sticker (very important) until they are just beginning to caramelize. When yours are tender and look like this (below), add the brown sugar.
Unlike regular souffles that usually begin with a very thick base, this is what the yolk mixture will look like before you add the beaten whites. A reminder that separating egg yolks from whites is easier when the eggs are cold BUT the whites whip up bigger and better when beaten at room temperature so please plan according.
This recipe only uses 2 egg whites but I still used my stand mixer – feel free to use a handheld or, if you want some upper arm work, whisk 'em by hand. Regardless of your method, make sure to NOT over whip your whites. You want the whites to be glossy and just firm enough to hold a peak that flops over like this one. Saying "no" to firm, stiff peaks means that your whites will still have some growing-power when the souffle hits the oven.
Folding is not stirring. Period. For this recipe and most all that incorporate beaten whites into the batter, you'll want to use a wide rubber spatula and a light hand to gently fold the two mixtures together. Think about using the spatula to lift the batters together and then gently fold them over the middle, turning the bowl slightly after each pass. In the beginning, the white and yolk mixtures will be very distinct. Need more help? Let me know.
And here's the batter completely folded together. Can you see how I've barely lost any of the volume? That's what you are shooting for to make sure your souffle, well, souffles.
Gently pour and scrape the batter over the re-heat pears and smooth the top just enough to make an even layer.
This baby is just out of the oven — POTHOLDERS PLEASE- I dust the golden top with a little confectioners' sugar to keep the souffle from sticking to the serving plate. This isn't a "must-do" but I like to do it. Now, working quickly and with POTHOLDERS hold the skillet in one hand and gently place the serving plate over the souffle with the other. In one motion, invert the skillet and plate. Lift the skillet..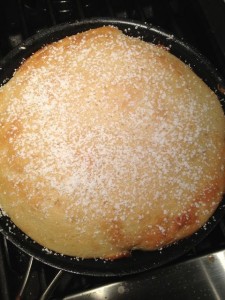 …and voila. .. Serve this beauty asap or you'll end up with a pancake. Granted, it will still be tasty but not the light and airy souffle you wanted.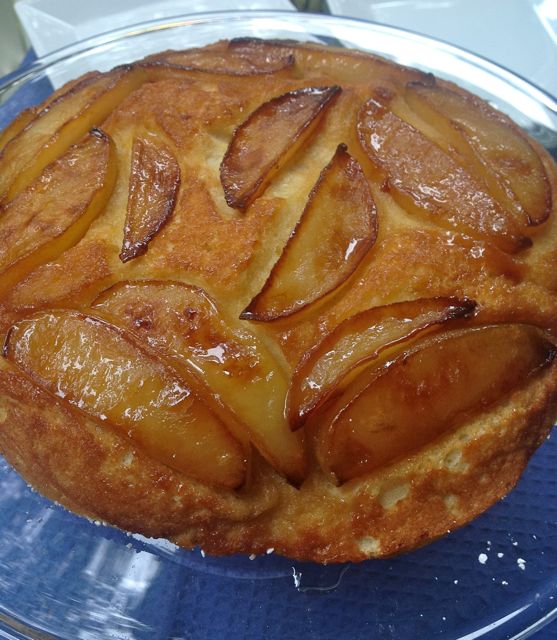 Caramelized Pear Skillet Souffle
Makes 2 to 4 servings.
For the Caramelized Pears
1 firm-ripe pear (about 8 ounces)
2 tablespoons unsalted butter, cut into 4 pieces
2 tablespoons firmly packed light brown sugar
For the Souffle
2 eggs, separated and at room temperature
1/4 cup mascarpone cheese
2 tablespoons pear liqueur
1/2 teaspoon pure vanilla extract
2 tablespoons all-purpose flour
3 tablespoons firmly packed light brown sugar, divided
Pinch of table salt
Confectioners' sugar for dusting
1. Position an oven rack in the center of the oven and heat the oven to 425°F. Have ready a flat serving plate.
Make the caramelized pears
2. Peel the pear and cut into 1/2-inch thick slices. Check this to see how I do it.  Put the butter in an 8-inch non-stick skillet and cook, stirring, over medium low heat until melted. Add the pear slices and cook,
stirring, until they are just tender and lightly caramelized, 8 to 10 minutes. Sprinkle the brown sugar over the pears and, cook, stirring frequently, over low heat until the  sugar is melted and the pears are
evenly coated, 1 to 2 minutes. Slide the pan from the heat and set aside while you make the souffle.
Make the souffle
3. In a medium bowl, whisk the yolks, mascarpone, pear liqueur and vanilla until well blended and smooth. Add the flour, 2 tablespoons brown sugar and salt and whisk until well blended.
4. In a (very clean) medium bowl ( you can use a stand mixer, if you'd like. I did.), beat the egg whites with an electric mixer fitted with a whisk attachment on medium speed until the whites are frothy, 30 – 45
seconds. Increase the speed to to medium high and beat until the whites are very foamy and barely soft peaks. Add the remaining 1 tablespoon brown sugar, increase the speed to high. Continue beating until the peaks are glossy and
form soft, floppy peaks (see pic above). Scrape the beaten whites into the yolk mixture and gently fold until just blended.
5. Heat the skillet (with the pear mixture) over medium low heat until the butter starts to bubble. Gently swirl the skillet over the heat to coat the sides with some of the butter and arrange the pears, if desired, in
the bottom of the skillet. Gently pour/scrape the souffle mixture into the skillet and smooth the top. Reduce heat to low and cook until the edges begin to look dry, 3 to 4 minutes.
6. Using a potholder, slide the skillet into the oven and bake until the top is puffed, golden brown and the center springs back when lightly pressed, 5 to 7 minutes. Working quickly and using potholders (the
handle is super hot), move the skillet to a wire rack (or cool stovetop and dust the souffle with a light coating of confectioners' sugar. Gently place the serving plate on top of the souffle and invert. Carefully
lift off the skillet. Using a small serrated knife, cut into wedges and serve immediately.
From DrBabs:
" this month's soufflé really called to me.  I decided to join team savory and make it for dinner.  I used onions and gruyere cheese (with fresh thyme, and sherry in place of the Calvados), so it was a bit like French onion soup in a soufflé.  And I added mushrooms to the caramelized onions.  Just because."