AND THE WINNER IS>>>Dorothea! I've emailed you!!

I had a very different type of post planned for tomorrow. The recipe is the same but, originally, I had wanted to include a conversation about my Mom's breakfast ritual of English muffins and my hankering for homemade version of her fave. But.. with Hurricane Sandy barreling towards us, I'm not even sure I'll have electricity come Monday morning so I'll save my thoughts on the importance of a mother's influence on a child (It's the small stuff that makes the most difference) and get you this recipe asap not just because of the giveaway opportunity via my friends at Red Star Yeast but because I think you-who-have-power might just need to make these right now. They are giant-sized, earthy-flavored muffins with just a touch of honey sweetness that toast up perfectly – all the garnish needed is a smear of unsalted butter. My mom would have loved them and I think you will as well..
My friends at Red Star Yeast recently sent me samples of their new yeast "Platinum" and, seriously, the timing could not have been better. I was just about to mix up a batch of these muffins using their Quick-Rise yeast (which I use on a regular basis) so I couldn't resist their offer to try this new one and, frankly, I was impressed with the results. Along with several batches of these muffins, I made my potato bread and my boule and I noticed the biggest difference with these loaves. English muffins require the traditional double rising method to ensure height and texture but, with the loaves, I followed Red Star recommendations , watched Gesine's fab video (she really is a dear) and let the dough 'rest' only 10 minutes before shaping, rising and baking. Anything that saves time without sacrificing results is brilliant.
Ok.. I'm off to brew a cup a tea and toast up my last muffin before the storm hits. Wishing everyone in harms' way safety and wellness.
A
ps.. you may be getting a sneak peak at November's BakeTogether recipe. And there maybe prizes, too… Tune in Monday November 5th for the announcement.
Deets on the Platinum Giveaway from my friends at Red Star Yeast: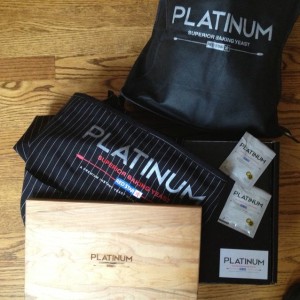 One winner will receive: A VIP package that includes samples  + coupons of Platinum yeast, a beautiful cutting board, and chic, black half apron. As an added bonus, the winner of this giveaway, chosen via random.org , will also be entered into a grand prize drawing for a 'Platinum' KitchenAid Mixer courtesy of Red Star Yeast.. who doesn't love that?
To Enter: You have FIVE chances to win. Leave up to FIVE separate comments on this post telling me about your biggest baking fears. Really, I want to know.
The Giveaway begins October 29, 2012 and comments will close at midnight EST on Sunday November 4, 2012 .Open to US  and Canada residents only.  The winner will be chosen via Random.org and I will notify you by email on Monday, November 5, 2012. You'll have 24 hours to respond before another winner is chosen.  Prizes are provided and shipped by Red Star Yeast. Grand prize drawing will be held on November 12, 2012 and you will be contacted by Red Star Yeast if you are the winner.
Disclaimer: My friends at Red Star Yeast sent me samples of Platinum yeast for testing purposes, a platinum package  (described above) and sponsored this post but my opinions, as always, are 100% my own. I would never steer you wrong.

English Muffins
Makes 6 BIG English muffins.
For the English muffins
1 3/4 cups (7 7/8 ounces) all purpose flour + extra for dusting
1 1/4 cups (5 5/8 ounces) whole wheat flour
1 package instant yeast (Rapid Rise or Platinum)
2 teaspoons baking powder
1 3/4 teaspoons table salt
2/3 cup water
2/3 cup milk (I use whole but 2% to skim will be fine)
1/4 cup honey
Cornmeal for dusting
2 tablespoons (1 ounce) unsalted butter, at room temperature
Make the dough
1.    In a large bowl of electric stand mixer, combine the all purpose flour, whole wheat flour, yeast, baking powder and salt and whisk until well blended. Clip the bowl into the mixer stand and fit the mixer with the dough hook.
2.   Heat the water and milk until very hot but not boiling. (I do this in a Pyrex measure in the microwave but a small pan on the stovetop will also work). Stir in the honey and check the temperature using an instant-read thermometer. For the yeast to activate, the liquids need be between 120°F and 130°F degrees (I shoot for 125°F).
3.  With mixer on medium speed, slowly pour the liquid into the flour mixture. Mix until the flour is completely incorporated, scraping down the sides of the bowl once or twice. Increase the speed to medium-high and beat until the dough is smooth and pulls away from the bottom and sides of the bowl, about 10 minutes. Stay close while it's mixing as the mixer might dance around on the counter.
4.   Scoop up the dough and shape it into a ball, lightly flouring your hands. The dough will be sticky but resist the urge to add too much flour. Lightly grease the bottom and sides of the mixing bowl and pop the dough, rounded side up, back into the bowl. Cover the top securely with plastic wrap or a plate.  Let the covered dough rise in a warm spot until doubled in size, about 45 to 60 minutes.
5.   Sprinkle an even layer of cornmeal over a cookie sheet or half sheet pan. Turn the dough out onto a very lightly floured work surface (the dough is sticky but use the least amount of flour as possible) and gently press to deflate. Using a bench scraper or knife, divide the dough into 6 even pieces (4 1/2 ounces each).  Shape the dough into a round balls (about the size of a blood orange) making sure the top is smooth and there is one seam on the bottom. Again, use very little flour. Arrange about 2-inches apart on the cornmeal-lined baking sheet and gently press down on each, lightly flouring your hands as needed, until they are about 3-inches in diameter and about 1 inch thick.  Lightly spray the tops of the dough, cover loosely but completely with plastic or a large rectangular pan ( I use my big, glass 10 1/2 x 15 1/2 -inch Pyrex) and let the dough rise, in a warm spot until doubled in size, about 25 to 40 minutes.
Cook the muffins
6.   Position a griddle on the stovetop (I use a double sized one set over two burners). Heat over medium heat. Brush or spread the butter evenly over the griddle (it will sizzle). Carefully lift the muffins, one at a time, and gently place, cornmeal side down, on the hot griddle, about 2-inches apart, so as not to deflate the dough. Reduce the heat to medium-low and cook until the bottom is well browned (reduce the heat if they are browning too quickly) and the sides look dull and a bit dry, about 10 minutes. Using a metal spatula, carefully turn the muffins over, reduce the heat to low, and continue to cook until the bottom is browned and the muffins sound hollow when gently tapped,  about 10 to 15 minutes.
7.   Remove the muffins from the griddle and set them on a wire rack and let cool until warm or cool completely before stowing in an air tight container for up to 3 days (they also freeze nicely). The muffins are best when served toasted. Using a fork (you can use a serrated knife but your muffin will lose is crumble-topped texture), split the muffins in half, toast and serve immediately with butter, jam, honey or nut butter.