BREAKING NEWS! The winner, chosen by Random.org, of the "BakeTogether Gift Basket via Red Star Yeast is…… Carol Sacks!!!!!
This Baketogether is late. I know and I'm sorry. A  hurricane and a snowstorm put me more than a bit behind schedule for this and, oh, about a hundred other things on my to-do list. Enough with my excuses. Let's get our BakeTogether on!
This month's recipe is Whole Wheat – Honey English Muffins. Yes. It is a re-post and not just because it's perfect for Holiday breakfasts and brunches. Truth told, I'm dying to see the many, many ways you guys can change up these babies. Because of the delay, this BakeTogether is extended to December 15, 2012 AND because I had such fun with the September BakeTogether giveaway, I thought we should do it AGAIN. Why not, right?  And what's better and ever so appropriate to give away than one of the VIP Platinum Packages from my friends at Red Star Yeast. Three cheers for Red Star!
**NOTICE: December's BakeTogether will be posted on time and run concurrently with this one.**
Before we get to the recipe, let's talk a minute or two about what these muffins are.. and what they are not. In the magazine and cookbook business, we  call this "managing reader expectation."  There is nothing worse than getting a reader email that starts with "…I was expecting something much different….". In cookbooks and mags, this managing usually happens in the headnote but here in my blog world, I don't include a proper headnote..
This is a soft and slightly sticky dough but not a pourable, crumpet-like one.
While it will take a bit longer to knead than a traditional bread dough, shaping is very similar to making rolls. The rounds should be about the size of a blood orange and have a taut outer surface and a firm, pinched seam on the bottom.
I use my Calphalon non-stick griddle to 'bake' these muffins but you can use a regular skillet as well. You might, however, need to add a touch more butter to the skillet and reduce the heat some so they don't stick or burn. If you do make changes, be sure to jot them down so you'll remember the next time out.
The finished texture of the muffins is coarse and a bit chewy but don't look for those big nooks & crannies – they won't be there. A cautionary reminder: Resist the urge to split these muffins in half with a knife as it takes away the numb-y texture. Use a table fork and go the old-fashioned way. Yeah, it will take an extra 30 seconds or so but you'll thank me for the reminder.
The recipe makes 6 muffins that will stay fresh and delicious at room temperature for 3 days or so (my batch sustained me through 5 days of hurricaine-related power loss) but they also freeze beautifully.
Here are a few ideas for switching things up but feel free to streeeetch your limits. We are, after all, baking together so show us what you've got.
Feeling nutty? I thought so..

Change the shape: I see loaves, boules, and possibly even rolls in this dough's future.
Change the flavor: Ginger? Dried Fruit? Multi-grain? Oatmeal? Molasses? To these, I'll simply say "yes, please"!
Make It Mini: Shameless, I know, to plug the new book,(have you seen the book trailer up there on the right column?)  BUT in my defense, I really do mean that these giants can be made mini or, at the least, smaller.
Deets on the Platinum Giveaway from my friends at Red Star Yeast: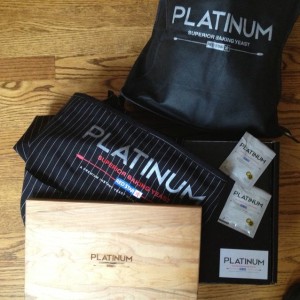 One winner will receive: A VIP package that includes yeast samples,  coupons of Platinum yeast, a beautiful cutting board, and chic, black half apron. You want this package – trust me.
To Enter: You have until  midnight EST December 15, 2012 to enter. Open to US and Canada residents only (sorry!). You need to do ONE thing: linkup to your baketogether recipe to this post via the linky thingy. If you don't have a blog, you can still be entered by emailing me a pic and short desccription of your muffins – I'll add them to the post. I'll let Random.org chose a winner on December 16, 2012. I'll announce the winner officially via email and, of course, I'll mention on Twiiter. You'll have 24 hours to contact me (Abby@abbydodge.com or via Twitter DM) & tell me your mailing address and my friends at Red Star Yeast will mail it out to you where ever you live! If I don't hear from you, sadly, I'll move onto the next person. Disclaimer: Prize is provided and shipped by Red Star Yeast.
Whole Wheat Honey English Muffins
Makes 6 BIG English muffins.
For the English muffins
1 3/4 cups (7 7/8 ounces) all purpose flour + extra for dusting
1 1/4 cups (5 5/8 ounces) whole wheat flour
1 package instant yeast (Rapid Rise or Platinum)
2 teaspoons baking powder
1 3/4 teaspoons table salt
2/3 cup water
2/3 cup milk (I use whole but 2% to skim will be fine)
1/4 cup honey
Cornmeal for dusting
2 tablespoons (1 ounce) unsalted butter, at room temperature
Make the dough
1.    In a large bowl of electric stand mixer, combine the all purpose flour, whole wheat flour, yeast, baking powder and salt and whisk until well blended. Clip the bowl into the mixer stand and fit the mixer with the dough hook.
2.   Heat the water and milk until very hot but not boiling. (I do this in a Pyrex measure in the microwave but a small pan on the stovetop will also work). Stir in the honey and check the temperature using an instant-read thermometer. For the yeast to activate, the liquids need be between 120°F and 130°F degrees (I shoot for 125°F).
3.  With mixer on medium speed, slowly pour the liquid into the flour mixture. Mix until the flour is completely incorporated, scraping down the sides of the bowl once or twice. Increase the speed to medium-high and beat until the dough is smooth and pulls away from the bottom and sides of the bowl, about 10 minutes. Stay close while it's mixing as the mixer might dance around on the counter.
4.   Scoop up the dough and shape it into a ball, lightly flouring your hands. The dough will be sticky but resist the urge to add too much flour. Lightly grease the bottom and sides of the mixing bowl and pop the dough, rounded side up, back into the bowl. Cover the top securely with plastic wrap or a plate.  Let the covered dough rise in a warm spot until doubled in size, about 45 to 60 minutes.
5.   Sprinkle an even layer of cornmeal over a cookie sheet or half sheet pan. Turn the dough out onto a very lightly floured work surface (the dough is sticky but use the least amount of flour as possible) and gently press to deflate. Using a bench scraper or knife, divide the dough into 6 even pieces (4 1/2 ounces each).  Shape the dough into a round balls (about the size of a blood orange) making sure the top is smooth and there is one seam on the bottom. Again, use very little flour. Arrange about 2-inches apart on the cornmeal-lined baking sheet and gently press down on each, lightly flouring your hands as needed, until they are about 3-inches in diameter and about 1 inch thick.  Lightly spray the tops of the dough with canola oil or "Pam", cover loosely but completely with plastic or a large rectangular pan ( I use my big, glass 10 1/2 x 15 1/2 -inch Pyrex) and let the dough rise, in a warm spot until doubled in size, about 25 to 40 minutes.
Cook the muffins
6.   Position a griddle on the stovetop (I use a double sized one set over two burners). Heat over medium heat. Brush or spread the butter evenly over the griddle (it will sizzle). Carefully lift the muffins, one at a time, and gently place, cornmeal side down, on the hot griddle, about 2-inches apart, so as not to deflate the dough. Reduce the heat to medium-low and cook until the bottom is well browned (reduce the heat if they are browning too quickly) and the sides look dull and a bit dry, about 10 minutes. Using a metal spatula, carefully turn the muffins over, reduce the heat to low, and continue to cook until the bottom is browned and the muffins sound hollow when gently tapped,  about 10 to 15 minutes.
7.   Remove the muffins from the griddle and set them on a wire rack and let cool until warm or cool completely before stowing in an air tight container for up to 3 days (they also freeze nicely). The muffins are best when served toasted. Using a fork (you can use a serrated knife but your muffin will lose is crumble-topped texture), split the muffins in half, toast and serve immediately with butter, jam, honey or nut butter.