A few weeks back, I guest hosted on Martha Stewart Radio "Cooking Today" and, boy o' boy, did I have fun.  Here's a shot of my "deck"..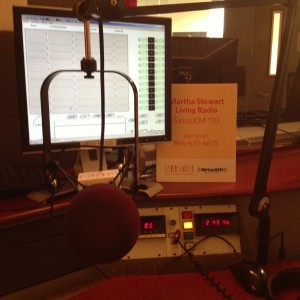 There isn't much better than spending 3 hours with your food-loving pals gabbing about, well, food. Gail Dosik (onetoughcookieNYC.com), Susie Middleton (sixburnersue.com), Marcy Goldman (betterbaking.com), Martha Holmberg (Modern Sauces is her HOT book), Victoria von Biel (organicgardening.com) and, last but never least, Mark Oldman (markoldman.com) all visited. We gabbed, giggled and, yes, we talked about food and I tasted sparklers & white wine with one of today's wine masters.
I also shared one of my new holiday cookie recipes – Spicy Ginger Slice 'n Bakes. It's such a lovely cookie for anytime of year but, with its warm, spicy flavors and the crystallized ginger, I decided I had to make it December's #BakeTogether (I've also had more than a few email requests for the recipe.)
Before we get to the recipe, a few pics from my week at Martha Stewart Living Radio.
Take a look at these cookies that Gail brought along. They didn't last long..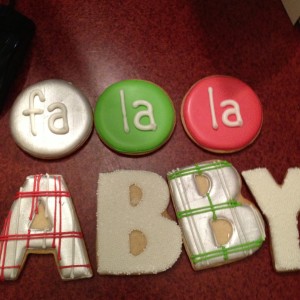 And yes.. me and Gail laughing. There's a surprise for you.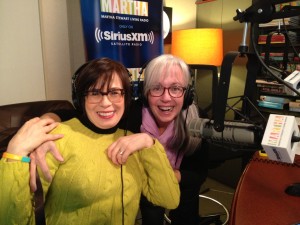 Do you know Mark Oldman? If not, you must. He's brilliant and brilliantly  fun. He had me in stitches and, yes, I was laughing so hard that I even snorted on-air. Don't judge.. he's hilarious.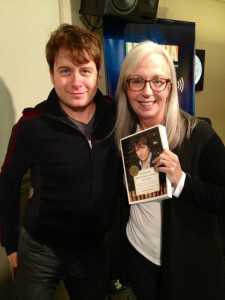 OK.. back to our cookie..
Here are a few ideas for switching things up but feel free to streeeetch your limits. We are, after all, baking together so show us what you've got.
Feeling nutty? We #baketogether folk just love the nutty. You can add in a chopped toasted nut (pinenut would be lovely or even pistachio) instead of the crystallized ginger or, go ahead and add both.

Change the shape: This dough can be shaped in rounds, squares, rectangles, oh my.. and, yes, it can even be rolled out into sheets and cut into holiday shapes.
Change the flavor: Remember, you can switch this puppy up and skip the the gingers altogether. Maybe you want a pure cinnamon cookie? Maybe dried fruit & citrus number? How about Lavender & Earl Grey snap? I make this one often (holler if you want measurements) How about adding in a little texture? Cornmeal & Lemon_Ginger anyone? How about a Toasted Coconut Slicer? Or, perhaps you want to make this guy a savory snap to enjoy with some bubbly. Feel like going rouge with toasted walnut and some blue cheese anyone? To all these and more, I'll simply say "yes, please"!
Add a drizzle or a glaze: Caramel? Chocolate? Vanilla bean? Yes. Yes you can.
You could also go classic Peppermint Chocolate (see below), like I did in my new book Mini Treats & Handheld Sweets.. Check out the book trailer up there ::pointing:: on the right hand column.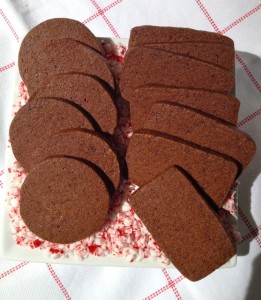 If you are new to #baketogether – Welcome! Read this short bit about how we roll:  "rules". And please upload the BakeTogether badge to your site – it's up there on the right side of the site.
It's all about balance.. it's all about flavor and it's all right here in this month's #baketogether. So, go ahead and stretch your limits,  find your balance and share your brilliance.
Happiest & Healthiest of Holidays my friends! We're going savory in January.. Be ready.
Abby
Spicy Ginger Slice 'n Bakes
Makes about 60 cookies
2 1/4 cups (10 1/8 ounces) unbleached all-purpose flour
1 1/2 teaspoons ground ginger
3/4 teaspoon ground cinnamon
1/2 teaspoon baking powder
1/4 teaspoon table salt
1/4 teaspoon finely ground black pepper
12 tablespoons (6 ounces) unsalted butter, softened
1 cup (7 ounces) granulated sugar
1 large egg, at room temperature
1/2 cup finely chopped crystallized ginger
1 teaspoon pure vanilla extract
Make the dough
1. In a medium mixing bowl, whisk the flour, ginger, cinnamon, baking powder, salt and pepper until well blended. Put the butter and sugar in a large bowl and beat with an electric mixer fitted with the paddle attachment until smooth and creamy, about 3 minutes. Add the egg, chopped ginger, and vanilla to the sugar mixture and beat on medium until blended and fragrant, about 1 minute. Add the flour mixture and beat on low speed until the dough begins to form moist clumps, about 1 minute.
2. Dump the dough onto a large piece of plastic wrap. Using the plastic as a guide, gently knead into a smooth dough. Shape into a 14-inch-long, square or round log and wrap well in the plastic. (The square is easiest to shape, but the round is more traditional. If you're going for a round shape, make sure to rotate the log often while it begins to chill. Refrigerate until chilled and very firm, about 4 hours.
Bake the cookies
1. Position an oven rack in the center of the oven, and heat the oven to 350°F. Line two (or more if you have them) cookie sheets with parchment or nonstick baking liners.
2. Using a thin-bladed knife, cut the dough into slices between 1/8 and 1/4 inch thick (I'm a baking nerd so I mark my logs every 3/16 -inch and then slice). Arrange the slices about 1 inch apart on the prepared sheets. Bake, one sheet at a time, until the tops look dry and the edges are golden brown, 11 to 13 minutes. Move the sheet to a cooling rack and let the cookies sit for 5 minutes and then transfer them to a cooling rack and cool completely. Repeat with the remaining dough using cookie sheets that are completely cold.
Do Aheads
The dough can be prepared through Step 2 and refrigerated for up to 3 days or frozen for 1 month before proceeding with the recipe. If frozen, thaw in the fridge overnight before baking.
Layer the baked and cooled cookies between sheets of parchment or waxed paper in an airtight container. These cookies can be stowed for up to 5 days at room temperature or for up to 3 months in the freezer.
From Claire:
If you've read any of my books, you know that I owe a debt of enormous gratitude to my dear friend Claire for testing many, many of my recipes and offer her suggestions & comments along the way. I heard from Claire just before our homeotwn cookie exchange. She told me that she was "going all Baketogether" this year with a Toasted Coconut Slice n Bake dipped in chocolate version of this month's cookie. All I can say is that her cookies (with 1 1/2 cups of toasted, sweetened coconut) didn't last long at all in my house.