This Valentine's day, I'm telling chocolate to move over. Now, please don't get me wrong I love chocolate. It might even be my middle name but I think we've all done the chocolate dessert thing and it's about time this sexy holiday meets its match with this McDreamy flavor – Vanilla – in this McCreamy dessert – Pots de Cremes. That's right. I'm talking Vanilla. Who's with me? Seriously, I don't know anyone who does swoon at the first sniff of pure vanilla. So heady and intoxicating – it's no wonder why my mom's generation (and those before, I bet) used to dab a little behind their dainty ears before a party.
Speaking of parties, when I was a little one, my mom used to put on a Valentine's Party for me and my Brooklyn gal-pals. Mom was a craft-y type (a DIY'er before her time – Who knew?) and, as the only girl out of 6 in her family and having her own 3 sons before having me, I think she just enjoyed a girly party now and then.
With pink, red and white as the parties' color palate, steamers, balloons and cupids abounded in our downstairs kitchen. The table was filled with all the fixings for old-school Valentine making – scissors, glue, paper, dollies, and glitter galore. Little direction was given save Mom's urging to "please peel the doilies apart and use one at a time". Heart crowns were made, mobiles were constructed as were elaborate boxed valentines (made from my mom's supply of pantyhose boxes. Raise your hand if you remember those Hanes boxes.) Not all of the creations were fancy-shmancy, some were blissfully simple and straightforward. "So Elegant" was often Mom's discrete critique.  Everyone went home with their bellies full, and arms filled hearts.
Thinking about our Valentine's Baketogether and the memories of Valentine's Day parties past, nostalgia grabbed hold and I decided to combine the two and host a V-day Baketogether Party. Everyone gets creative, everyone has a full belly and ONE lucky participant will leave this party with this basket of McDreaminess courtesy of my very favorite vanilla –  Heilala Vanilla! Based in Tauranga New Zealand, these sumptuous Heilala vanilla products have a wonderful story behind them. "What started as a gift of land from a Tongan chief turned into an aid project and then a flourishing business….." Read the rest of the Heilala Vanilla Story here. I'm so excited that Heilala is becoming available here in the US – Bristol Farms, some Whole Foods in Californi and Williams-Sonoma are carrying some of the products with more and more coming soon. Don't forget that Heilala will happily ship their vanilla to you – anywhere.
What's the prize?  That's right.. It's  "Vanilla To Make You Shiver"! <—- said with a NZ accent

Contents:
1- Heilala Vanilla Extract 100 ml bottle
1- Heilala Vanilla Award Winning Paste 100 ml jar
1- Heilala Vanilla Syrup 250 ml bottle
1-  Heilala Vanilla Sugar 330 gm
1-  Heilala Vanilla Beans- 2 bean tube
1-   Heilala Vanilla Tote Bag
Retail Value $100. HOLY MOLY!
Of course, we all know that Baketogether isn't a competition, but.. This month, one lucky US or Canadian baketogether participnat will be selected by Random.org to win this bag of vanilla lusiousness shipped directly from Heilala. I love prizes. I love vanilla. I love vanilla prizes.
To Enter: Like with all Baketogethers you have until the end of the month, February 28, 2013 to enter. You need to do ONE things to enter:  linkup to your VANILLA baketogether recipe to this post via the linky thingy. You can submit multiple times as long as it's a separate vanilla recipe. If you DON'T have a blog and would like to participate, send me a pic and a breif description of your dessert. I'll tack it on to the bottom of the post and then you will be entered. I'll let Random.org chose a winner on March 1, 2013. I'll announce the winners officially via email and, of course, I'll mention on Twiiter. You'll have 24 hours to contact me (Abby@abbydodge.com or via Twitter DM) & tell me your mailing address Heilala willThe mail it out to you! If I don't hear from you, sadly, I'll move onto the next person.
If you are new to #Baketogether, check out the rules here: http://www.abbydodge.com/category/baketogether/ and let me know if you have any questions!
Back to the recipe….
Because this is a Vanilla Party, I'm going to ask that all Baketogether recipes use Vanilla as the star flavor. That said, vanilla doesn't have to stand alone – vanilla loves dance partners as long as they don't out shine her.
Here are a few ideas for switching things up but feel free to streeeetch your limits. We are, after all, baking together so show us what you've got.
Add a fruit  and/or a flavor:  pop a few raspbs in the bottom of each pot. I've also  added  nibs, herbs ( lemon basil?), spices and even citrus. Can you say five-spice powder? How about coconut? Bring it.
Change it up: Make it skinny (whole milk but don't go less than that or they will be watery). Go with Honey over the granulated. Make it a brulee, ole! Caramel it! Churn into ice cream. Use it as a sauce. Add some cornstarch and make it into pudding or pastry cream and, as I said, feel free to partner this wonderfulness with another flavor.
Add a drizzle or a glaze: Caramel? Chocolate? Double it up with a vanilla bean sauce? Sprinkle or nuts? Yes. Yes you can.
Double the recipe? Why not! You can even make just 2 of these pots (use 2 or 3 yolks and  a smig over 3/4 cup half and half) but I'd suggest you make the full batch.. it's always nice to have a little extra.
Before you dive in, how about a few tips and pix for success?
Pot de cremes:
First off, I've written the pot de creme recipe using a modification of the traditional method. Here, I've microwaved (aka nuked) and steeped the half and half and the vanilla bean in the same measuring cup I used to, well, measure the half and half. Mixing the yolks in a saucepan eliminates the need for a bowl and I have skipped the re-heating of the liquid. If you don't have a microwave, go with the traditional method. Let me know if you need some help with those dirx.
When  the yolk and half and half mixtures are just mixed (before cooking) , the liquid will be quite thin and foamy on top. In a french kitchen, this foam is called a mousseline and it will gradually disappear as the custard cooks.
Here's a snap of the sauce after 1 or 2 minutes of cooking. It's still very thin and it barely covers the spatula
After stirring and scraping the sides and bottom of the pan.. ahh.. that's better. Make sure not to boil this mixture. You don't want a scrambled mess in your pot.
Run a finger across the spatula and the custard should hold the line. Perfect.
Here's the finished custard. It's thick and tinged with yellow and flecks of vanilla seeds. If you are not using the vanilla bean, stir in the extract of paste now. but do try and use a vanilla bean.
You can pour the custard straight from the pot into the ramekins but I like to pour the custard back into the 2-cup measure and then into the rammies. The spout makes for clean work.
Cover loosely with foil and bake until the centers jiggle like jello when you nudge the rammies. Baking times will vary depending on the thickness of the cups/ramekins you use so keep an eye on 'em. If you think they are in danger of over cooking, lift them from the water immediately after you take them out of the oven. Using tongs wrapped with wide rubber bands make great, slip-free grabbers that are perfect for transfer duty.
The Sauce:
Adding some fruit preserves or jam to my berry sauce makes it doubly fruity and makes the finished sauce the perfect consistency. If you have your own frozen fruit and preserves, please use those. Unfortunately, Hurricane Sandy and subsequent week-long power outage stripped me of every last thing in my freezer and frig so I used store bought berries and jam. Oh and don't forget to put a piece of plastic over the bowl BEFORE you put the top on – makes clean up much easier (works for blenders too).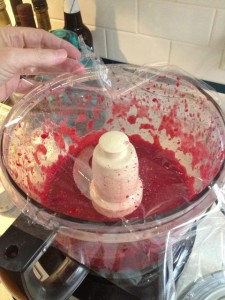 Again, I ask, who's with me? Go ahead, dab a little behind your ears. It's time to get your Valentine Vanilla Baketogether on kids.
Vanilla Pots of Heaven with Double Strawberry Sauce
Makes 4 servings and 1 1/3 cup sauce.
For the pots of heaven:
1 vanilla bean split or 1 1/2 teaspoons pure vanilla extract or paste
1 3/4 cup half & half
5 large egg yolks
1/4 cup (1 3/4 ounces) granulated sugar
1/8 teaspoon table salt
For the strawberry sauce:
1 package (10 ounces) frozen strawberries, thawed
1/4 cup strawberry jam (I use seedless)
1/4 – 1/2 cups (1 to 2 ounces) confectioners' sugar
Pinch of table salt
To make the pots:
1.Measure the half and half in a 2-cup glass measure.
2. Position the vanilla bean on a cutting board and, using the tip of a sharp knife, split the bean lengthwise down the middle. Slide the edge of the knife down the cut side of each piece of the bean to release the seeds. Add the seeds and vanilla bean pieces to the half & half. Heat the mixture in the microwave until very hot, 2 to 3 minutes. Cover and let the mixture steep 30 or up to 2 hours. The longer the half & half and the vanilla bean and seeds steep, the more pronounced the vanilla flavor.
3. Position the oven rack on the middle rung. Heat the oven to 325°F. Arrange four 6-ounce ramekins in a baking pan with 2-inch high sides. I use my 8-inch square baking pan.
4. In a small saucepan, whisk the yolks, sugar and salt until well blended.(Don't let them sit or the eggs will begin to break down.)  Uncover the half & half and, whisking, slowly pour the half and half (with the vanilla bean pieces) into the yolk mixture. Whisk until well blended. Cook over medium-low heat, stirring constantly with a spoon or heat-proof spatula, until thickened and coats the back of a spoon or spatula (170-172°F on an instant read or candy thermometer), about 4 to 5 minutes.
5. Slide the pan from the heat and fish out the vanilla bean and scrape any custard from the pod back into the custard. Stir in vanilla extract or paste, if using.  Pour the custard into the ramekins (for a super-clean pot filling, I like to pour the custard back into the 2-cup measure and then pour it from there into the ramekins – the pour spout makes it so easy.) Carefully fill the baking pan with hot tap water to come halfway up the sides of the ramekins and cover the pan loosely with foil.
6. Bake until the pot de crèmes wiggle like jello when nudged, 35 to 45 minutes depending on thickness of the ramekin walls. Transfer the baking pan to a rack let cool completely. Cover with plastic wrap and refrigerate at least 4 hours or up to 2 days before serving.
To make the strawberry sauce:
1. Combine the thawed strawberries, jam, 1/4 cup (1 ounce) confectioners' sugar and the salt  in a food processor or blender. Whiz until pureed and well blended. Taste and add a touch more sugar if needed. Press through a fine-meshed sieve if you want a seedless sauce.
To serve:
1. Spoon a little of the custard out  of the center  -don't go for perfect – and pour a little sauce into the cavity. Serve the remaining sauce on the side.
From Katherine! Entry #10  changed to #13
This is my first Baketogether and what a delicious one to start with. Abby's Pots of Heaven are pure joy all on their own but since I love to tinker with recipes I had no problem coming up with several variations. I knew I wanted to add a brulee topping. It is like treasure hunting: break through the caramel to get to the custard reward. After much debate, I settled on a ginger flavoring (lavender was my runner-up). The wonderful thing about vanilla is that it goes beautifully with nearly every flavor. But ginger could easily outshine the vanilla, so I played it safe and came out with a subtle ginger background flavor that brought just a touch of zing to the pot de creme.
I followed Abby's original recipe adding four 1/4″ thick slices of ginger to the half-and-half for steeping and substituting vanilla sugar for the regular sugar. I did use the traditional method of heating the half-and-half in a pot. I always taste as I go with recipes and I decided the ginger slices were not imparting enough flavor so I took out my potato masher and broke up the slices a little bit and let it steep for a couple of hours. Then I removed the large chunks of ginger and continued with cooking the custard.  Then I ran it through a strainer as that was the easiest way to remove the ginger and vanilla bean pods.
Before serving the chilled custards, I spread a thin layer of granulated sugar over the top of each one and used my broiler to caramelize the sugar. I didn't get the prettiest caramelization but it tasted great.

From Claire! Entry #11 changed to #14
I took one can of dark sweet canned cherries, drained, liquid reserved, and added the cherries to the warm cream to steep.
After steeping, I put the cream through a strainer, keeping the cherries which I then rinsed quickly.  I proceeded with the recipe as written.
I took the reserved cherry liquid and reduced it to about 1/4 cup, added 1 tsp of lemon juice and a pinch of salt to make a sauce.
To serve, I removed a spoonful of custard and added a spoonful of sauce, a few chopped cherries and lemon zest.
My comments:  I don't think I found the most flavorful canned cherries to work with.  things to do differently: I would have chopped before steeping them to get more of the cut surface of the cherries to help flavor the custard.  I would have steeped the cherries/vanilla longer than 30 minutes.  I didn't find that the cherried flavored the custard much if at all.  Maybe add a TBs of cherry liqueur to the creme?
The sauce was flavorful and a nice color