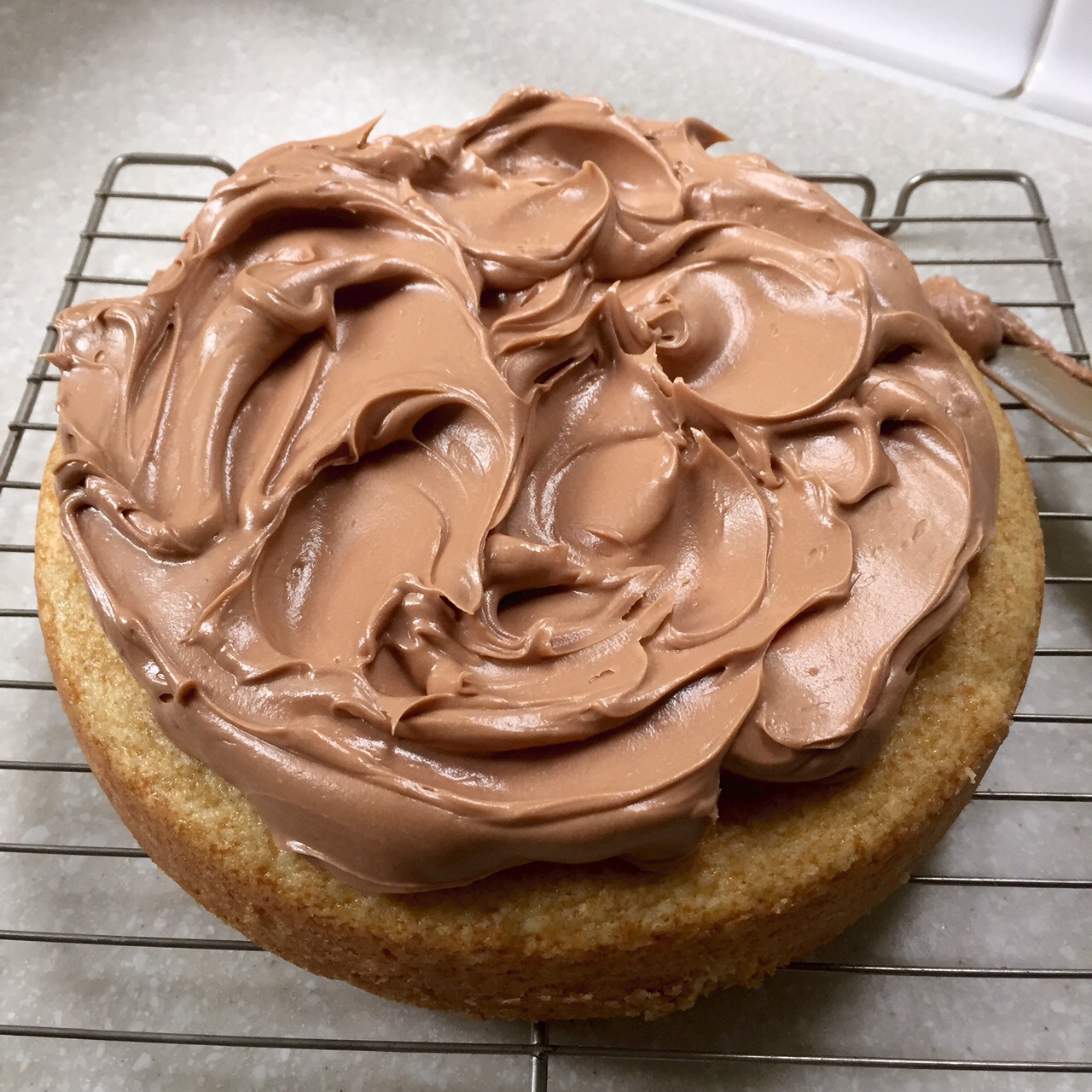 There are many ways to celebrate important life events and this little milk chocolate-topped number is the way I am celebrating three new and – dare I say – big things going on with me this fall.
I'll preface these announcements by declaring this season to be one of shameless self-promotion so if you'd like to skip this stuff and go straight for Single Layer Vanilla Cake with Milk Chocolate Frosting recipe, please feel free to scroll down. For those of you who are interested or are simply willing to tolerant a bit of horn-blowing, thank you and I promise to keep it brief.
First off, I'd like to welcome you to my newly updated site. She has a new look and while I have some bugs to work out (like adding in the "print this recipe" function), I'm pretty darn pleased with it. I'm so grateful to Walker Interactive and Abigail Lupoff for the designs – please check out their talents. I've also added a couple of new pages for you to check out. You can take a peak inside my kitchen, pantries and office or, as I'm fond of calling it, my "dance space". If you look closely, you'll pick up some fun trivia about my life, work and family – kind of like a "where's waldo" or an "eye spy". Let me know what you find!
Speaking of new pages on this site, I have written my tenth cookbook – The Everyday Baker – and this bad-boy begins shipping Mid-November. It's been an enormously long and personal journey and I'm thrilled with the result. I've given this 624 page, 175+ recipes, 4 lbs 5 oz. massive cookbook with 80 finished dish shots and, if you can image, almost 1000 how-to shots its own book page. Or…you can just go straight to amazon.com and order it up NOW! Either way, I'll be sharing more about the book and the process in the months to come.
Lastly, I did a series of video baking classes with my friends at Craftsy.com. We call the series, Baking Bootcamp – Cakes & Crusts. While a great starter course for newbie bakers, it's also a great way to check in with me and learn up-close how I bake. I cover measuring/weighing ingredients (SUPER important); preparing pans; mixing & frosting a single layer banana cake (clearly I have a 'thing' for single layer cakes); making a 4-layer chocolate cake with a  killer frosting; two easy tarts with one decadent filling and a full -on, in-depth look at pies and their crusts. I keep the classes super real – all the mishaps and mistakes are out there for us all to see and learn from! Are there are times I would have preferred to re-do or edit? You betcha but I believe we can all learn from snafus — and it's proof that no one is perfect. Not even me, and I've been baking for well, eons…  I hope you tune in and please let me know what you think!
now.. about that cake..
A few notes:
This is a quick bread style or two-bowl cake much like the banana cake in the craftsy videos. One exception, instead of folding until just moistened, I'd like you to whisk the wet and dry ingredients until almost smooth. For this cake and this combination of ingredients needs a bit of a boost to help form a better, stronger structure. See how it forms a nice ribbon of batter?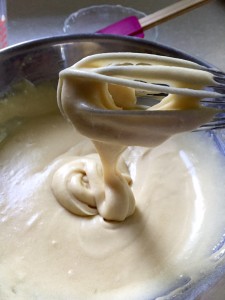 Baked in a pie plate, this cake is also delicious served plain, with fresh fruit or split, toasted and spread with jam. And, yes.. I do that.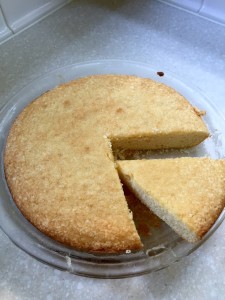 For those bittersweet and white chocolate lovers out there, rest assured that you can swap in the same amount of either chocolate for the milk chocolate. Guess which this one is..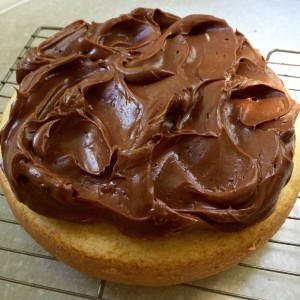 Single Layer Vanilla Cake with Milk Chocolate Frosting
Makes 10 to 12 servings.
For the cake
Nonstick cooking spray or softened butter + all-purpose flour, for preparing the pan
1 1/4 cups (5 1/2 oz.) all purpose flour
3/4 cup (5 1/4 oz.) granulated sugar
1 1/4 tsp. baking powder
1/2 tsp. table salt
1/3 cup milk (whole or 2%)
1 large egg, at room temperature
1 yolk from large egg, at room temperature
2  1/2 tsp. pure vanilla extract
6 Tbs. (3 oz.) unsalted butter, melted and cooled slightly
For the frosting
12 Tbs. (6 oz.) unsalted butter, softened
1/2 cup (2 oz.) confectioners' sugar, sifted if lumpy
1 Tbs. milk (whole or 2%)
1/2 tsp. pure vanilla extract
1/8 tsp. table salt
4 oz. milk chocolate, melted (I like Lindt)
Make the cake
1. Position a rack in the center of the oven and heat the oven to 350°F. Lightly grease the bottom and sides of an 8×2-inch round cake pan and line the bottom with parchment. Lightly flour the sides of the pan.
2. Whisk the flour, sugar, baking powder, and salt in a medium bowl until well blended. Measure the milk (I use Pyrex or Oxo), add the egg, yolk and vanilla and, using a mini whisk, whisk until well blended (this can also be done in a small bowl). Pour the wet ingredients over the flour mixture along with the melted butter. Whisk  until blended and almost completely smooth, about 15 seconds. Scrape into the prepared pan and, using a small offset spatula, spread evenly. Bake until the top is golden brown and springs back when gently pressed, and a pick inserted in the center comes out clean, 28 to 30 minutes.
3. Move the pan to a rack and let cool for 15 to 20 minutes. Run a knife between the cake and the pan to loosen the cake. Invert onto a rack, lift off the pan and peel away the parchment. Invert the cake again onto another rack so the topside is up and let cool completely.
Make the frosting
1. Put the butter in the bowl of a stand mixer fitted with the paddle attachment (or in a medium bowl using an electric handheld mixer fitted with wire beaters). Beat on medium speed until well blended and smooth, about 1 minute. Add the confectioners' sugar, milk, vanilla and salt and beat on medium-high speed until well blended, about 2 minutes. Add the melted milk chocolate and beat until well blended and fluffy, about 1 minute. Stop to scrape down the bowl. Cover the frosting and set aside at room temperature until the cake is completely cool and ready to be frosted.
2. Using your hands, move the cooled cake to a flat serving plate. Pile the frosting onto the center of the cake and, using an offset spatula, spread evenly to within 1/4 inch of the cake's edge. Serve immediately or cover very loosely and refrigerate the cake up to 1 day and any leftovers are delicious for days.  The cake should be served slightly chilled or at room temperature.

Print this recipe